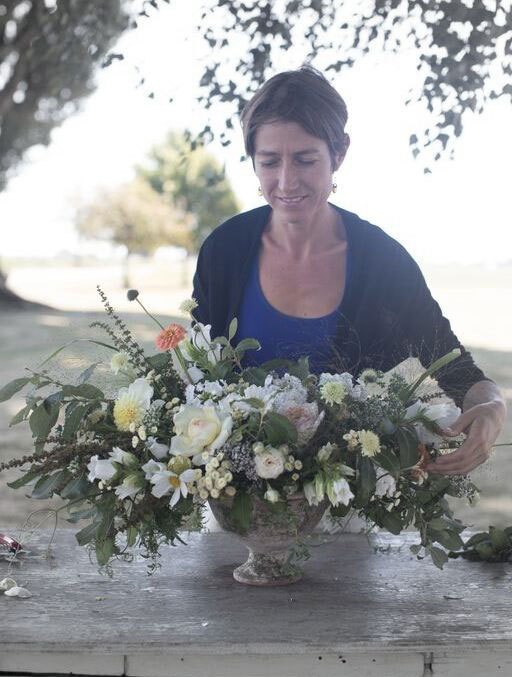 As a farmer-florist, my goal is to create bouquets and flower arrangements that evoke wonder and make people want to climb right in and explore! Nature nurtures me, as I feel it nurtures others through the flowers I grow.
Most, if not all, of the flowers I use come from our gardens. We have farm grown, hand picked flowers from April to November and source locally as much as possible in my off season to supply year round.
Farming as a family has been a conscious lifestyle choice I share with my partner in raising our two children on Salt Spring Island.
We give special attention to using small-scale farming practices, building soil health, using water wisely, and providing homes for beneficial insects. Recently, we have become beekeepers and love watching the honeybees being nourished by our organic flowers.
One of the many things I love about flowers is their infinite diversity. They come in so many different colours and endless amounts of textures and patterns. It's impossible to choose a favourite; each season brings a new love affair in the flower world!
When I was a child, my life of flowers and gardens was seeded by my parents right here on Salt Spring Island. My mother, who is a gardener, gifted me with the complete set of Flower Faerie books—the Dandelion Fairy, the Pansy Fairy, the Almond Blossom Fairy! My father further fueled my imagination with snippets like, "If you really listen, you can hear the trees talking."
Thanks to them, I was drawn to the allure of magic, nature and beauty. When I finished school and it came time to choose a life path, organic gardening was clearly aligned with my values of "right livelihood". I've continued to walk that path and nurture my passion, and I couldn't feel more grateful to own a blooming flower business.